On May 22, 2019, Viettel Telecommunications Corporation announced its preferential program exclusively for customers using Viettel's fixed Internet service. Accordingly, all customers using Viettel Internet will be doubled the current bandwidth while the price remains unchanged. This policy is part of a series of gratitude to customers on the occasion of the 30th anniversary of the establishment of Military Industrial and Telecommunication Group.
The explosion of technology and the trend of digital shift has led to an increasing demand for online content. Users began to be familiar with watching videos up to 4K – 8K, using online data storage tools, creating streaming trends, livestream and uploading large files to the unit. Tetrabyte. This means that Internet services need to have outstanding high speed, high bandwidth to serve diverse learning and entertainment needs.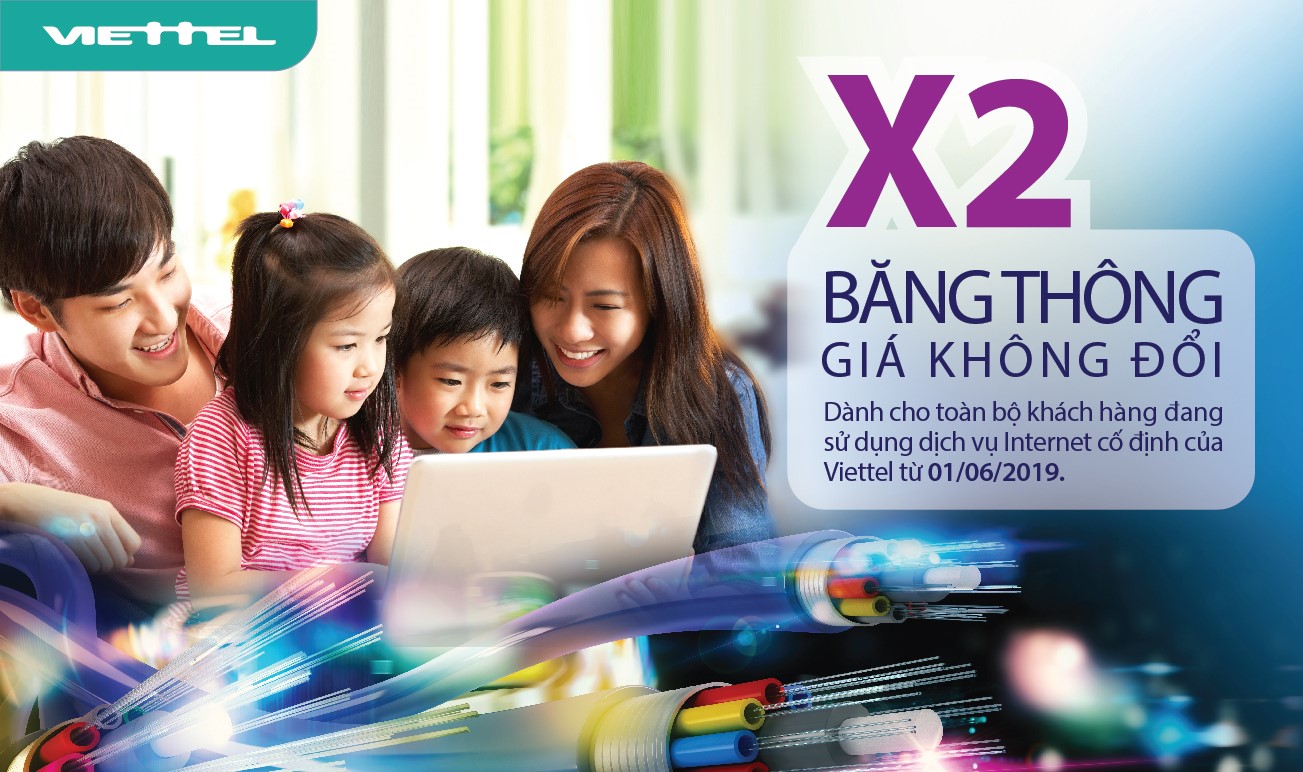 Meeting customers' needs, from June 1, 2019, Viettel applied a policy to double the bandwidth for customers using fixed Internet services with constant rates. Viettel's post-lift package will have a minimum bandwidth of 30Mpbs, while the maximum bandwidth can be up to several hundred Mpbs. This move of Viettel is not only consistent with the trend of speeding up Internet service lines in the world but also the first step in the process of realizing the goal of bringing Vietnam into the top 10 leading countries in quality. Internet volume in Asia by Military Telecom company.
According to Speedtest – the world's leading unit for Internet speed testing, Vietnam is currently ranked 72nd in the world fixed Internet speed ranking, thus raising this bandwidth of Viettel is expected to significantly improve Vietnam's ranking in the region as well as globally.
Behind the event of raising large-scale bandwidth is the relentless effort to build fiber-optic infrastructure for 10 years for Viettel people. As of May 2019, Viettel has become a telecommunications provider with connecting infrastructure. The largest in Vietnam with nearly 350,000 km of fiber optic cable and 6 international connection lines (4 sea cable lines & 2 mainland connecting lines) directly to the largest global Internet Hubs with a total capacity of 13Tbps and continuously open more Directly connecting with the world's leading content providers, Viettel is confident to bring the best experience to Internet users, even when serious cable incidents occur. This is the biggest difference in Viettel's Internet customer experience with other operators.
Besides the program of doubling constant bandwidth, Viettel also launched a new package system with bandwidth from 25 – 300 Mbps with attractive rates for new customers of single Internet service or Internet combo – transmission Viettel TV picture from 01/06/2019. With Viettel TV, you will always be updated with the most extensive content about K + sports, feature films and entertaining game shows from Viettel's leading content partners such as VTVCab, K +
Nguồn: Viettel